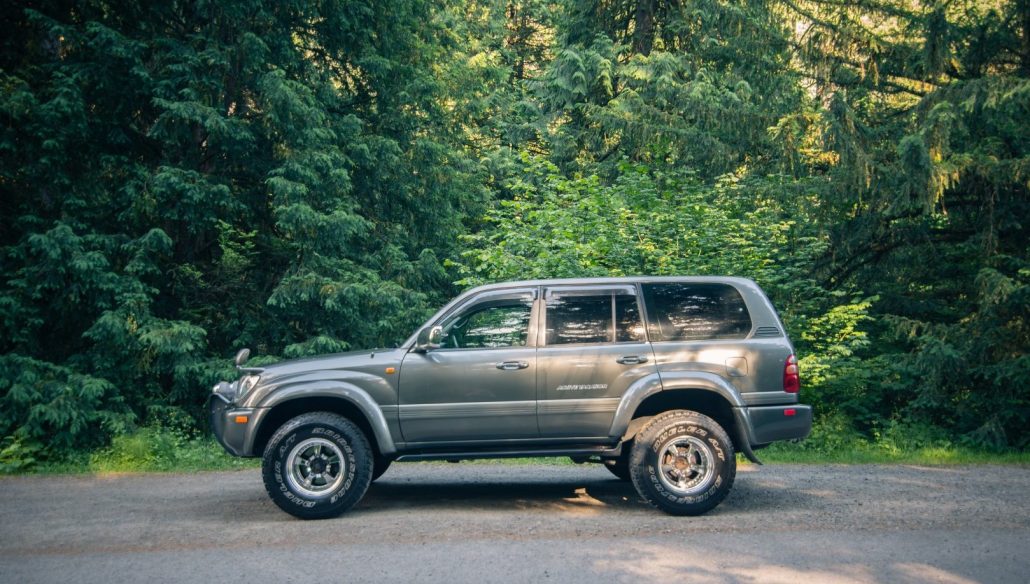 Model
1998 Toyota Land Cruiser Camper
Short Description
5 Speed. Turbo Diesel. Active Vacation Package
Price
Price Not Available
Availability
Sold
This Land Cruiser 100 series package is the real deal. A certified 1 Owner Rig from the southern part of Japan. It was owned by an older gentlemen who used it for fishing touring throughout Japan's prefectures. It comes with a stack of original manuals, and maintenance history from new. An extremely rare combination of a JDM Spec VX Trim HDJ101 finished in Toyota Riverock Green (1C3) optioned with the rare H151F 5 Speed Transmission combined with Toyota's in-house camper option that was only available certain years, the Active Vacation package. This is really a rare rig to find, certainly one of a kind here in North America. It features the ever reliable and renowned 1HD-FTE engine, a 4,200cc turbo diesel engine that puts out  202 HP and 317 lb-ft of torque. It's been tastefully built out with a few mods: Jaos overland front brush guard with additional fog lights mounted, and rear heavy duty mud flaps, 16 inch JDM wide alloy wheels to match stance paired well with Japan's Elford wide body kit, and a 2 inch body lift to go with it all. Chrome side mirror covers accent the exterior look quite well. On the inside, the a turbo timer is mounted, as well as an upgraded Pioneer stereo which sounds incredible over the stock setup, complete with a rear disc changer located in the boot. The interior is wrapped in a super durable and very comfy brushed velour grey patterned cloth, a trim that was only offered in Japanese sold land cruisers.
The camper package completes the utilitarian essence of this rig, with a stowable bed platform in the rear that can sleep up to 2 adults. In addition, a mini galley is part of the Active Vacation package, positioned in the rear right of the vehicle, this comes complete with both fresh and grey water storage tanks, a small sink and cover counter with a built in electric water pump. Adjacent to this an area that fits a single burner removable butane stove perfectly, as intended by Toyota. This whole counter slides outwards as well. On the left side is more storage in various different compartments. The rear hatch windows are manual opening, making ventilation easily controllable even with the vehicle off.
The Toyota Active Vacation package was an option that was offered during very limited years throughout the mid-late 90s in certain select models, only available in Japan. It is fully removable and can be taken out to reveal a standard land cruiser trunk space if you so desire. It's only a matter of a few bolts.
This vehicle is being offered for sale in both Portland, OR and Vancouver, BC. It is being sold with a valid and legal B.C Canada title. Buyer responsible for importation to US if so desired. Free delivery is available to anywhere between Portland, and Vancouver, B.C. Please feel free to call us with any questions
Features:
1998 Toyota Land Cruiser VX HDJ101 Active Vacation
178,000 original KMs or 110,000 original miles.
Dual 12v Battery setup in engine bay
5 Speed H151F transmission, one of the strongest manual transmissions Toyota has made.
Full time 4wd with a Hi-Lo transfer case. Center diff lock.
4.2 Liter 1HD-FTE Turbo Diesel Engine. 202 HP. 317 lb-ft Torque, pulls strong and hard. Great fuel economoy 20-24 MPG.
After market Bosch intake for added airflow
Turbo Timer
2 Inch lift
16 Inch After market JDM widened wheels
Elford 100 series wide body kit
Jaos Rear Mud Flaps and front brush guard + 2 fog lights
Toyota OEM Rain guards
Front and Rear Heat and AC. Both work well.
Original Toyota Floor mats
Pioneer Carrozeria Stereo Head unit with remote
Front heated seats
Active Vacation Camping package from Toyota, sleeps two, sink, stove, grey and fresh water storage.
Jaos Aftermarket Muffler
Recent service in the past 8 months including reciepts for all this work:
Regular oil changes with Toyota OEM Filters.
OEM Rear trailing arm replaced
OEM Front left CV Axle
OEM Inner and outer tie rod ends replaced
Fresh transfer case, gear oil, front differential oil, and rear differential oil.
2 New engine batteries
Front wheel bearings repacked.
Steering alignment.
Contact us for more details